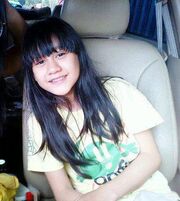 Zaenab
is one of the supporting characters in the series. She often seen with Madun, despite she is the little sister of Martin.
Appearence
Edit
Zaenab has an ordinary Indonesian people look, and she ties her hair.
Personality
Edit
Zaenab is a friendly and cheerful girl. She also not shy from bickering. Overall, she is a kind girl.
Zaenab is one of Madun's friend. She tends to stop Mr. Udin from marry again with another woman such as Mrs. Aisyah, to stop Mr. Udin from betraying his dead wife. When Zaenab finds out that her mother still alive, she says that Mr. Udin has lied to her. She sometimes goes in the field to play soccer, but unfortunately, girls are not allowrd to play soccer, making her only seen supporting Madun. When Madun gets closer with Chun Li, a Chinese girl, Zaenab is seen become jealous.
Zaenab is an alter-name. Zaenab's real name is Jeni.
Zaenab is the second person to have an alter-name. The first being Martin.